Potential blood biomarkers for AS identified in study
Proteins could help with diagnosis, monitoring of ankylosing spondylitis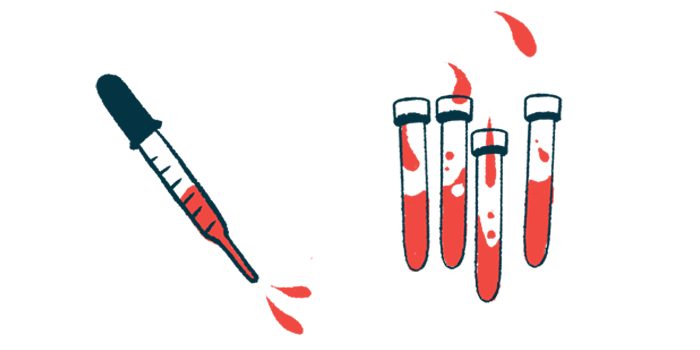 Proteins associated with inflammation and immune system function were identified as potential blood biomarkers for the diagnosis and monitoring of ankylosing spondylitis (AS).
"Better biomarkers would address a significant unmet need both in clinic, where earlier diagnosis and referral might be improved, as well as in bettering our understanding of disease mechanism," the researchers wrote.
The study, "Quantitative proteomic screening uncovers candidate diagnostic and monitoring serum biomarkers of ankylosing spondylitis," was published in the journal Arthritis Research & Therapy.
AS is a type of arthritis that mainly affects the joints of the spine, characterized by inflammation of the sacroiliac joints — where the base of the spine meets the pelvis — and back pain, leading to significant functional impairment.
The disease is thought to be caused by a combination of genetic and environmental factors. AS diagnosis has relied on a combination of patient-reported symptoms, imaging data, and nonspecific biomarkers.
C-reactive proteins, erythrocyte sedimentation rate most used biomarkers
The most used biomarkers in AS clinical practice include C-reactive protein and erythrocyte sedimentation rate, two measures of inflammation. However, they lack sensitivity, as research reported that as many as two-thirds of confirmed AS patients with clinically active disease are within normal levels of these parameters.
This means that better biomarkers of AS are still needed, the scientists said.
"Biomarkers that can aid in the diagnosis and monitoring of disease activity of AS could improve clinical care and advance our pathophysiology [disease processes] understanding," the investigators wrote.
For that purpose, the researchers studied the levels of potential protein biomarkers in blood samples of 80 individuals (61% were males). Twenty-six had active AS disease — as assessed by the Ankylosing Spondylitis Disease Activity Score C-reactive Protein — 26 inactive AS disease, and 28 were age-, sex-, and race-matched healthy controls. AS patients had a mean age of 46.1 years and presented AS symptoms for a mean of 25.5 years.
Of all proteins found at different levels between two groups, 367 were detected when comparing AS patients with healthy people, thereby potentially associated with diagnosis. In addition, 167 were detected when comparing patients with high versus low disease activity, thereby associated with disease monitoring. These numbers were reduced to 247 and 27 in a subsequent analysis.
Thirteen proteins were common for both disease diagnosis and monitoring, 11 of which were altered in the same direction.
When looking at implicated protein networks, the researchers identified the complement system, a set of blood proteins that help fight infections, and immune signaling among the top overrepresented pathways.
The MAPK/Ras pathway, which is key in the regulation of cellular processes critical to normal development, was among the top pathways of monitoring biomarkers.
Activators of the identified pathways included proteins associated with the immune system and inflammation, namely interleukin (IL)-23/IL-17 and TNF, as well as the pathways cGAS-STING and JAK/STAT.
In contrast, predicted inhibitors included those involved in lipid (fatty compounds) metabolism and protein folding.
Protein panel that can identify AS patients
The researchers also conducted a machine learning analysis to find a protein panel that can best identify AS patients. This included 13 proteins associated with inflammation and had an overall accuracy of 0.8, with superior ability to help identify AS cases than C-reactive protein.
"Our protein panel performance was comparable to previous reports of advanced imaging including MRI and low dose CT [scans]," the researchers wrote. "This project may serve as a useful adjunct to earlier diagnosis, more accurate disease activity monitoring, and development of a predictive prognosis model that can ultimately lead to earlier AS diagnosis and treatment."
Among the study's limitations, the team noted that most participants with AS had long-standing disease, an important consideration since "[blood] serum biomarkers may differ between early and established AS."