Blood Levels of GM-CSF Rise With Disease Activity in AS Patients
Inflammatory protein's levels not affected by anti-TNF therapies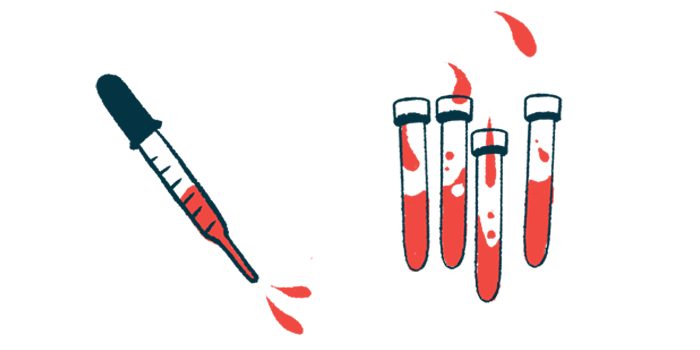 High levels of the pro-inflammatory molecule GM-CSF were found in the bloodstream of people with active ankylosing spondylitis (AS) and strongly correlated with disease activity, a pilot study suggested.
Despite helping to lower disease activity, anti-TNF therapies did not affect GM-SCF levels. As such, GM-SCF may represent a pathway responsible for residual inflammatory activity during treatment, according to the researchers.
Findings also suggest a role for GM-CSF in AS development, supporting further studies into its biology and clinical utility, they added.
The pilot study, "Serum granulocyte-macrophage colony-stimulating factor (GM-CSF) is increased in patients with active radiographic axial spondyloarthritis and persists despite anti-TNF treatment," was published in the journal Arthritis Research & Therapy.
AS is a type of arthritis marked by inflammation of the sacroiliac joints, where the base of the spine connects with the pelvis. Studies suggested that immune lymphocytes, such as T-cells and B-cells, are the drivers of AS-related inflammation.
Emerging evidence indicates that myeloid cells, which give rise to immune neutrophils and macrophages, may also play an inflammatory role. This is because more severe disease activity has been linked with higher numbers of neutrophils in the bloodstream of AS patients.
GM-CSF promotes inflammatory cytokine production
Granulocyte-macrophage colony-stimulating factor (GM-CSF) is a protein that stimulates the growth of blood cells, including neutrophils and macrophage precursors called monocytes. GM-CSF induces the production of inflammatory molecules called cytokines and activates the immune system.
Of note, namilumab, an antibody-based treatment that neutralizes GM-CSF, is currently under investigation for AS and rheumatoid arthritis.
Researchers at Ruhr-University Bochum, in Germany, designed a pilot study to measure GM-CSF levels in AS patients before and after treatment and to explore relationships between GM-CSF levels and disease activity.
The study included 12 AS patients (seven males, five females) who still had disease activity after treatment with non-steroidal anti-inflammatory drugs (NSAIDs). As such, they were eligible for biologic therapies that block the action of the pro-inflammatory cytokine TNF.
Patients' median age was 37, ranging from 22 to 52, and they had a median symptom duration of 6.5 years and a median time since AS diagnosis of one year. A group of 16 age- and sex-matched healthy people was included as controls. Blood samples were collected before treatment with TNF blockers (baseline measure) and after four to six months of therapy.
At baseline, blood levels of GM-CSF were significantly higher in AS patients compared with controls (150 vs. 62 picograms/ml). At follow-up, however, there was no significant change in patients' GM-CSF levels relative to baseline levels (mean of 152 picograms/ml).
"This finding suggests that GM-CSF is increased in [AS] and persists despite the suppression of the TNF-mediated inflammatory pathways," the researchers wrote. "As a consequence, increased GM-CSF keeps on enhancing [myeloid cell generation] and the pro-inflammatory functions of myeloid cells, including neutrophils and monocytes.
"This may explain the residual disease activity despite anti-TNF treatment," the researchers added, as measures of disease activity decreased but "not to a status of 'low' disease activity."
The team also measured the levels of two molecules — Dkk-1 and SOST — that regulate bone remodeling, the natural process of bone breakdown and formation.
Blood tests showed lower levels of Dkk-1 in AS patients compared with controls (1228 vs. 3052 picograms/ml), which remained unaffected by anti-TNF treatment. SOST levels were not different from controls at baseline or follow-up.
Statistical analysis showed that higher GM-CSF levels at baseline, but not follow-up, were positively correlated with more disease activity, as assessed with the ankylosing spondylitis disease activity scores (ASDAS).
Higher GM-CSF levels also associated with younger age but not symptom duration or time since diagnosis. Similarly, GM-CSF also correlated with younger age in controls.
No relationships were seen between the levels of Dkk-1 and SOST and GM-CSF levels, as well as disease characteristics or other markers of disease activity.
"Although no correlations between clinical indices, GM-CSF and Dkk-1 or SOST could be demonstrated," the team noted, "analysis of a wider array of biomarkers in samples from larger patient sets is needed to understand the mechanisms governing bone remodeling in [AS]."
Since baseline and follow-up GM-CSF measurements "occurred only a few months apart," the scientists wrote, "it is uncertain whether GM-CSF levels remain relatively stable or vary over years possibly with relation to disease activity or in response to different treatments."
Still, "our results suggest a potential pathogenetic [disease-causing] role of GM-CSF in [AS] and corroborate previous preclinical and clinical observations that support further studies on the biology and clinical utility of GM-CSF in this disease," they added.