Evidence for Most AS Blood Biomarkers Weak: Umbrella Review
The study reviewed 43 identified markers, with 5 showing 'suggestive' relationship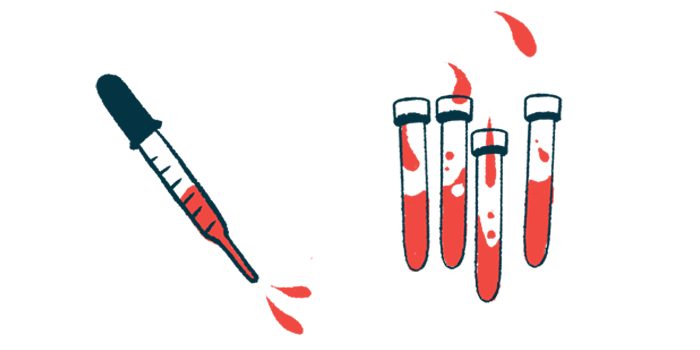 Platelet counts and blood levels of inflammatory proteins interleukin-23 (IL-23) and interleukin-17 (IL-17) were identified as the strongest potential non-genetic biomarkers of ankylosing spondylitis (AS) in a recent umbrella review study.
The study, which looked at 43 previously identified biomarkers, found the evidence was weak for most others.
The findings "do not necessarily imply causation," the researchers cautioned, noting, "prospective cohort studies and randomized controlled trials are needed to confirm the findings of observational studies."
The umbrella review, "Non-genetic biomarkers for ankylosing spondylitis: An umbrella review," was published in the Journal of Clinical Laboratory Analysis.
Several studies over the years have sought to uncover potential biomarkers of AS, which can be used to aid in disease diagnosis and predict its course, as well as offer insight into new treatment strategies.
A number of systematic review studies and meta-analyses have sought to synthesize findings from these smaller studies. These analyses merge findings from multiple studies to uncover a relationship between a biomarker and AS across a larger number of patients.
Still, there are limitations for these types of analyses. For example, since each review may focus on a single or a few biomarkers, it's difficult to compare various ones that have been analyzed in different review studies.
To overcome some of these limitations, the researchers conducted an umbrella review and meta-analyses of previously published reviews and meta-analyses relating to non-genetic AS biomarkers.
Essentially a review study of review studies, the goal of such an analysis is to find which of many potential biomarkers are likely to be most significantly associated with the disease.
The umbrella analysis involved 21 studies published by October 2020, which collectively covered 43 potential biomarkers.
In the researchers' analysis, 22 were determined to have at least a nominally significant association with AS.
5 biomarkers show relationship, none are convincing
Of them, five showed the strongest positive relationship: blood platelet count, and blood levels of IL-23, IL-17, matrix metalloproteinase-3, and malondialdehyde. For each, higher levels were associated with the presence of AS.
Yet, "none of the potential non-genetic biomarkers were graded as convincing evidence," the researchers wrote, noting that most showed weak evidence due to a small number of cases and lack of statistical significance.
Still, evidence for IL-23 and platelets were "highly suggestive," meaning the analysis involved more than 1,000 cases and was statistically significant. The evidence for IL-17 was deemed "suggestive."
The ratio of regulatory T-cells (Treg)/peripheral blood mononuclear cells (PBMC) was negatively associated with AS, with evidence also deemed "suggestive." PBMCs are immune cells that originate in the bone marrow and are key components of the immune system. Tregs are a specialized subpopulation of immune T-cells that act to suppress immune responses.
Both inflammatory proteins, IL-23 and IL-17 likely associate with AS through their activity in the immune system, the researchers noted, while the way platelets — cell fragments involved in blood clotting — are involved in AS remains less clear.
"Further studies are warranted to clarify the underlying mechanisms of these non-genetic biomarkers in the development and progression of AS," the researchers concluded.